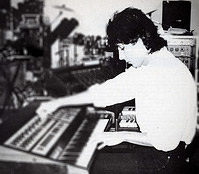 Today's Gas 0095 and final quote comes from Richard Barbieri who plays keyboards for Porcupine Tree and the legendary Japan. Japan were responsible for one of the greatest albums ever, Tin Drum, and Richard was hugely responsible for its sound; a strange mix of Chinese folk influenced electronics; Eno and Moroder meet Mao Tse Tung.
Richard Barbieri on Gas 0095…
I love the album , Microscopic sounds amazing.
It has beautifully crafted arrangements with programmed synthesis and textures that constantly evolve. Filmic landscapes of electronics ebb and flow against trancey rhythms and sequences.
I've heard a lot of electronic music during this period and in this genre but this is superior stuff. It's pretty spacey as well and has a nice retro feel in the way the synths are washed with repeats and reverbs in places, reminiscent of Vangelis' classic Bladerunner.
Probably what I most relate to and like about this album is the attention to detail and the subtle electronics and abstract percussion that serve as a backdrop to the musical themes.

Richard Barbieri  (Japan, Porcupine Tree)
Listen to Gas 0095 here (includes free download)

Japan – The Experience of Swimming (Barbieri)
Many thanks Richard!
…