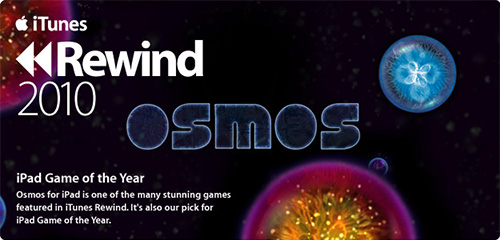 Woah x10. Apple has just announced the four winners of the prestigious apps of the year 2010, and have selected Osmos as the iPad game of the year 2010. Congratulations to Hemisphere Games!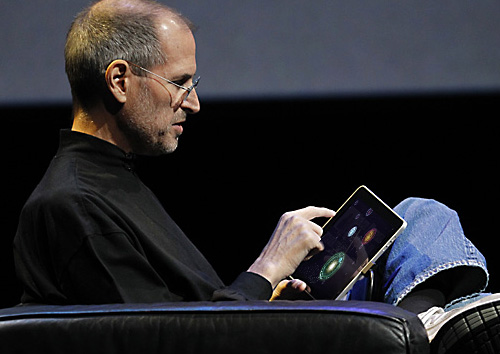 Steve Jobs does all his re-entry calculations using Osmos for iPad.
Osmos includes music from Gas and High Skies (free MP3 downloads)

Also, coincidently Osmos (iOS) has just been updated.
Hey everyone! We've submitted a sweet Osmos iOS update (1.6.4) which should be available any day now. By popular demand, it contains:

Game Center support!
Skip a Level: Players will be able to skip up to three levels in Odyssey mode. If you've been having trouble with a specific level but want to continue the Odyssey (thereby unlocking additional Arcade modes), this update will be a big help!
Smaller download size on iPhone, allowing it to be downloaded over 3G.

A note for iOS developers out there: we learned a useful lesson we thought we should share. Our last iPhone update (1.6.3) added Retina support, including a set of larger textures that pushed the .ipa file we submitted to Apple up to 19.3 MB. We thought this would squeak by under the 20 MB limit imposed on 3G downloads; but along the way, 1.4 MB was somehow added to the version finally available on the App Store. We're not sure what in Apple's process causes this, but we've submitted an 18 MB .ipa file this time to try to remain under the limit. Beware the bloat!

Cheers!
…