Osmos is just like real life; you float around absorbing biophobes, trying to avoid getting pulled into a giant sun; and just like real life, some tips on sub-nuclear physics and orbital mechanics would probably come in very handy. These tips will help you progress from being wonderfully average, to a little better than average.
Osmos is a game by Hemisphere Games for iPad, iPhone, PC, Mac and Linux, and very soon to be Android too. It includes music from us (Gas, High Skies), and Biosphere, Loscil, Julien Neto and others. It is Apple's iPad game of the year 2010 and the current TUAW iPad game of the year.
NEWTON'S LAW OF FREE ENERGY
One of the best ways to increase your mass and vector in Osmos is to point yourself at a wall and charge.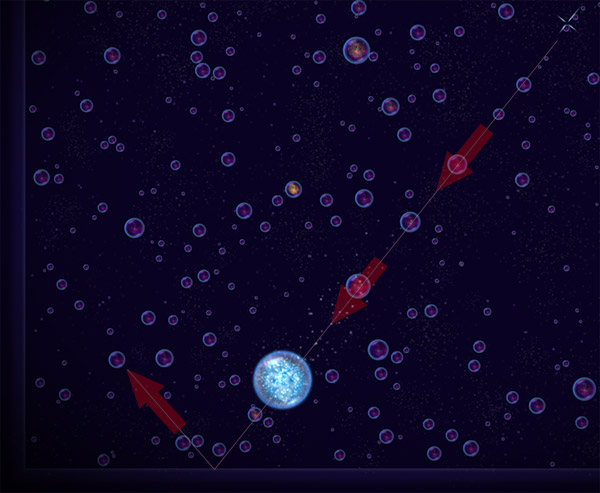 The (added) arrows show the direction of your path.
On the above image, your 'mass' is expelled behind you (lined up under the red arrows) and will increasingly travel in your direction as you gather speed, following you, so that as you are slowed down by Newton's First Law (by absorbing motes unfortunate enough to be smaller than you), the same motes you expelled earlier will catch you up and be reabsorbed back into your well-fed self. So now you have plumpness with matching residual motion for free, where you can continue on, absorbing motes in your path.

OSMOTE vs GOLIATH Continue reading Osmos: Tips for a Long and Happy Life