Osmos for iPhone/iPod Touch has been released and we have copies to give away! Osmos for iPad, made by those super talented people at Hemisphere Games and featuring music by Gas & High Skies, went straight to No1 in the App Store (yikes!) and was the App of the Week everywhere. The winners get to chose either the iPhone or iPad version.
UPDATE: Osmos is now Apple's App of the Week!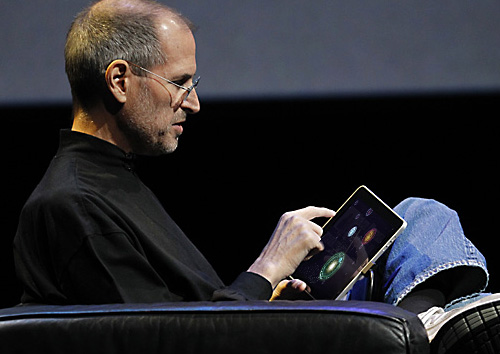 Steve Jobs engrossed in Osmos (one of the later and harder levels)
Osmos for iPhone features full Retina display and iOS 4.0 support (also works great on iOS3), along with all the familiar features from the iPad version: addictive, physics-based gameplay, fluid multitouch controls, lush, flowing visuals, and a chill, ambient electronic soundtrack. It will be priced at (the low, iPhone-market style) $2.99.

The #1 question we get asked is "how will Osmos look and play on the iPhone's small screen, especially with my fat fingers?" The answer: very nicely! Check out this video to see it in action.
We've put a lot of work into this version (in fact the iPad "inherited" a lot of that work), and we hope you'll enjoy it! For more information on features, the trailer, and awesome reviews of the iPad version, check out the Osmos for iPad page.


Available now at the App Store
The winners will be drawn by Eddy Boxerman from Hemisphere Games (the creators of Osmos), on 12 Aug 2010 (next Thursday) using the randomness of atmospheric noise.
Note that we don't keep or share anyone's email addresses, so there's no reason not to enter! If you already own a copy or don't own an iPhone/iPod we can gift it to a friend for you.
Win a copy, add a comment below…
…