Osmos 2 has been released for iOS and is a free update.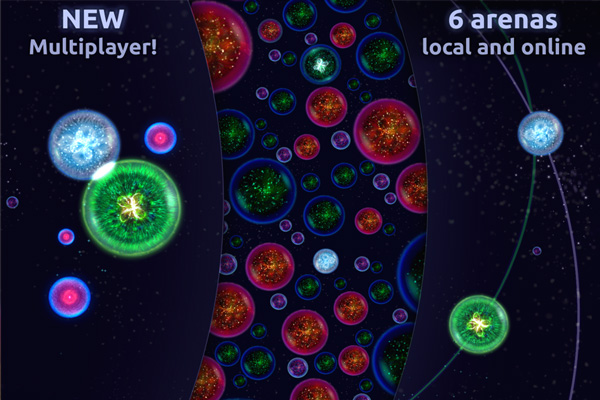 Introducing multiplayer and iPad retina support.
And for this weekend you can play against the devs (until our batteries run out). I'll add all the Game Center names here as things progress.
I am =  OsmosDev_Mat
Dave Burke = OsmosDev_Dave
Andy Nealen = OsmosDev_Andy
MULTIPLAYER:

Play against your friends (and enemies), locally (via wi-fi or Bluetooth), or over the Internet (random or invitations)!
6 distinct Arenas: Ambient, Impasse, Solar, Warped Chaos, Epicycles, and introducing… Antimatter Impasse.
iPad vs. iPhone play supported (local games only)
15 new multiplayer-specific achievements.
An optional handicap system to help keep competition friendly. Be kind to young motes!
Players can now tweet their achievements and broadcast challenges to their friends and followers to take them on in multiplayer.
Antimatter Impasse will really warp your noodles.
Also includes some new High Skies sounds.
Update now and absorb some friends/ random nerds…
Continue reading Osmos 2 – Free update. Play against the developers!