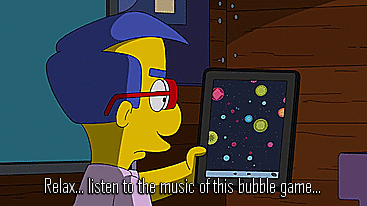 The Simpsons recently did a parody of Osmos, even making a very loose version of the Gas – Discovery theme, as Millhouse relaxes to Osmos on his iPad. Instead of calling it Osmos, they name it Alaxies: a play on Osmos possibly being a shortened version of (c)osmos… (g)alaxies. Clever.
All the cool nerds play Osmos.
Osmos is a nano-game for iOS, Android, Mac, PC and Linux and features an ambient soundtrack including Gas and High Skies.
…