6th Planet, brand new iPhone / iPod game from new indie developer Monkube. It's a fusion of arcade game and comic book and features an electronic soundtrack from Leones, Robots in Space, Forest Fargloam and myself (with Gas-Microscopic). I also made some of the in-game sounds on my ARP Odyssey and old phaser pedal. Includes a full comicbook!
We have three copies to give away; just add a comment below to win…
Monkube.com
Sixty levels, ten worlds full of challenging obstacles, hidden levels if you're good at the gameplay part, and master levels for the guy who's done with the story mode and still can't stop playing.

6th Planet features a full ten track ambient soundtrack by renowned artists and a comic book story created in coorporation with Vivifilm. Vivi-who? They're an animated movie production company with two Oscar nominations on their impressive resume.
iFanzine.com 5/5
Five out of five chimps agree: this mega collaboration from Monkube and a number of art studios is the best darn iteration of "lunar lander" you'll find on the iOS. Boasting perfectly fine-tuned physics, a wonderfully illustrated sci-fi story filled with as many twists as the game's complex levels, and a pick-up-and-play interface, 6th Planet gives the iOS gamer just about everything he or she would ever look for in a videogame — and then some!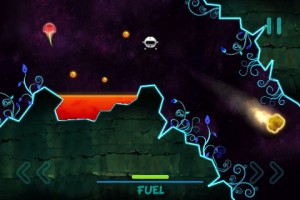 Qwertyhub.com 4.5/5
6th Planet it a fantastic game and is very easy to recommend. The gameplay is good enough to stand on its own, in fact, the game actually got more enjoyable the deeper into it I went (stages 48, 49, and 50 were my 3 favorites). Monkube didn't stop there: every aspect is well developed to deliver much more than just a "good game", it's an excellent total experience.
Note: We delete all email addresses after we've contacted the winners.
Free draw will take place on Fri 11th March.
Add a comment below to win…
.