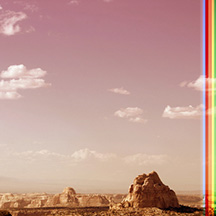 My former Emit label-mate Paul Frankland has a new Woob album for you, and it's a classic.
We have three copies (MP3 + Flac) to give away; just add a comment below to win. (No email addresses will be kept)
Six tracks of ambient clouds, lush strings and Commodore 64. Film length scores ranging from four to nineteen minutes.
Repurpose
Giant Stroke (extended)
Stranger Air
Departure
85-bit
Buy it now, because it's a great album and to help guarantee there will be more Woob albums in the future.
The limited 1st edition CD has sold out, but there is a 2nd edition CD due soon. It's also available as MP3 and Flac.
NANO INTERVIEW…
MJ: How would you sum up Repurpose?
PAUL FRANKLAND: It's been described as 'Cinema for the Ears' I think that sums it up pretty well.
MJ: When will the 2nd edition CD be available to order?
PF: Official release is sometime in early July, though to secure a copy early read this post.
Buy it now, help support indie artists and get a great album.
The random draw will be made by Paul Frankland next Fri 2nd July 2010.
Add a comment below to win now…
…