Want Osmos on your iPhone/ iPod Touch?

UPDATE: Osmos iPhone and Osmos iPad (No1 in App Store!) have been released. Both are Apple's App of the Week! Visit Osmos in the App Store…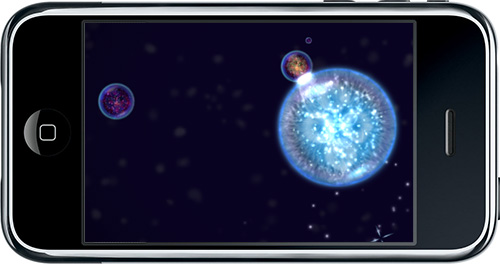 Mark your calendar. I can confirm that Hemisphere Games are hard at work on bringing Osmos to the iPhone, and should be with us in around eight weeks or so.
It almost seems like the perfect game for the iPhone/ iPad.
100% – "… a beautifully put together game. The game is simple, stylish, clean and addictive to play"  Zak @ indiegamemag.com
Features music by Gas and High Skies…
News… Osmos has recently been updated to version 1.6
What's changed? Are there release notes?
Yes, and here they are (for the PC version)…
Version 1.6.0

New languages: Osmos has been translated into French, German, Spanish and Italian. (Thanks to our localizers!) Note that the game will auto-detect your system's language settings, though you can manually override it as described here.
Osmos is now officially family friendly. It's been rated E (for Everyone) by the ESRB.
Added DirectX (D3D) support. If you're graphics driver is having issues with OpenGL, you can configure Osmos to run using D3D.
Reduced the extreme difficulty of a few late levels.

F3A-2: The player now begins in the "outer ring". The inner ring is a little sparser as well, so huge motes won't form as quickly or easily.
F3A-3: Tweaked to make this one a bit easier.
F3C-3: Tweaked to make this one a little easier.
F4C (antimatter forever): The difficulty curve of these levels is less steep.

Music is now streamed for quicker load times and a smaller memory footprint.
Improved sound init code, eliminating rare sound crashes/malfunctions on startup.
Mouse-only controls: You can now play Osmos without touching the keyboard. Visit the in-game Controls menu if you wish to enable this mode. (Hover over text will explain the details.)
Visualization improvement for small motes: when zoomed out, it's easier to see what's "edible". (Motes that are much smaller than you are subtly faded out.)
Players can now skip the splash screen more quickly.
A few other minor fixes and tweaks.
Removed dependency on libnoise.

Version 1.5.8

When clicking on a zone button that hasn't been completed, you're automatically taken to the last level you've unlocked. (Many people don't see the level buttons and get very upset thinking they have to redo the levels they've already completed.)
Updated to the latest OpenAL installer.
Osmos now selects the software sound device by default. The software device supports everything the game needs, and some hardware devices seem to be failing, or support a very limited number of sources. So the game should run well for most people "out of the box".

Version 1.5.7

A handful of sound fixes for hardware that doesn't support EFX. (symptoms include crash on exit)
Tweaks to the difficulty of all levels in F3A.
Fixes to a 3rd party library for random memory corruption on 64bit machines.

Version 1.5.6

This is the initial retail release of Osmos!
Eight weeks!
…