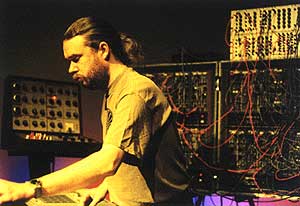 Today's Gas 0095 quote comes from electronic pioneer Ian Boddy who has been releasing electronic music since the very early 80s with three cassette only releases on the Mirage label. Famous for his analog modular systems he's been releasing albums consistently ever since including collaborations with Robert Rich, Mark Shreeve and Chris Carter (Throbbing Gristle). He also runs his own electronic label, DiN Records and has several sample CDs for sale including the excellent Waveforms series.
Ian Boddy on Gas 0095…
"So after a short introductory track the long second piece, Experiments on Live Electricity begins in a leisurely fashion and you begin to wonder what this albums actually going to be like. Then at precisely 1:14 just about the biggest, fattest, wobbliest analogue bass cuts across the soundfield and grabs your attention. It's the first of many great sounds on this album but it doesn't fall into the trap of filling up the whole audio spectrum, it inhabits its own space allowing the track to breathe and the beguiling simplicity of the arrangement to shine through."

ARC ( Ian Boddy & Mark Shreeve ) performing live on the Stars End radio show.
Ianboddy.com
DiN Records
Waveforms Sample CD series
Many thanks Ian!
…