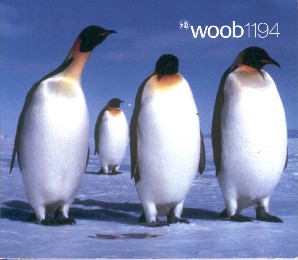 Fellow ex-emit artist Paul Frankland has re-released his Woob 1194 album, and we have three free copies to give away. We also have free copies of a brand new version of Giant Stroke, a track from Emit 1197, to give away!
Simply add a comment to this post and we will draw three names out of a super-chilled hat in a week (Sunday 27th December 09). Plus, everyone who adds a comment will recieve a free copy of the special Woob track. Please add your email with your comment, it won't be displayed and we delete them all after the draw has finished.
In the second part of my interview with Paul we talk more about the recording process…

MAT JARVIS: How did you approach the recording of the album?
PAUL FRANKLAND: The performing/mixing of tracks was similar for all. For example with – 'On Earth' I  would start with all the faders down on the mixing desk, a couple of synths set up for live improvised performance, various tape/DAT decks for triggering long samples (Atari CPU was midi only) and the sequencer would have up to 24 midi tracks (5 minute loops) I could cut in and out on the fly (similar to Ableton Live). The engineer would then hit record on the DAT and I would take it from there. All EQ and FX were obviously set up beforehand, although they would get tweaked during the mix. 
MAT: You mentioned the improvised part in 'On Earth' in part I of our interview, what do you remember about the other tracks on the album?
PAUL:
Odonna– Spending five hours making the perfect vocal loop on an Akai s1000 (so that it didn't click!)
Wuub – Nearly cutting it from the Album completely because it just seemed too nice.
Strange Air – Doing nine passes in a row, each one completely different.
Emperor –  I think half the track is a master fade.
MJ: And how about the second album, and the new album?
PF: That whole working method saw me through the first Woob album, the second was a lot more structured with mostly predefined arrangements.
The new material  shares a similar approach to the first album, with the added benefits a modern studio environment brings. The new track (released 1st Jan) is built from a really simple live musical performance and then additional layers of musical sound design and fx have been added. The updated website has a cinematic style teaser trailer…
Woob – UQ Trailer from Antenna > on Vimeo.
Read part I of this interview
Woob 1194 on iTunes
Buy Woob 1194 on Bandcamp
Woob official web site
Add a comment below to win a copy of Woob 1194…
(Remember to add your email address for us to contact you with the free track. It won't be displayed and we delete them all after the draw)
…