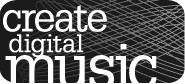 Eddy Boxerman, the main man behind the ambient game Osmos and myself (Mat Jarvis) have been interviewed by Peter Kirn at his Create Digital Music blog. We cover such topics as the evolution of the game, gravitational mechanics, and the Osmos soundtrack.
Visit CreateDigitalMusic.com to read the full interview (music physics space in perfect fusion)
Further Osmos interviews and reviews…
Congratulations to Eddy and Hemisphere: Osmos has been selected as an IndieCade finalist!
…