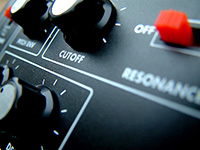 My good friend Charles Webster brought me a small gift from his recent Japanese/ Australian tour to help beef up the Microscopics studio: a copy of the latest Gakken magazine which also comes with an analog synth as a simple-to-build construct kit. There's no soldering, or hair-pulling, you just need a small screwdriver and about half an hour.
It's like a souped up Stylophone and about the same size, with a pen (you can pretend it's a Fairlight light pen) that makes contact with a metal (or carbon in this case) keyboard to play the notes, except the SX-150 keyboard is continuous with no note divisions, so you'll have to determine the notes by ear like on your Theremin.
It also has a filter, LFO, simple VCA and pitch envelopes, and an external input to process your Minimoog.
The magazine also looks really interesting, with 126 pages on the history of analog synthesizers and electronic music, photos and interviews with famous users, comparisons of analog synth verses plugin copies, visits to Japanese analog synth shops with every classic synthesizer you could want, plus interviews with Mr Roland, Mr Korg, and presets, mods and stickers for your new SX-150! Probably lots more if I could read Japanese…
This is a beautifully put together magazine and kit with lots of thought, care and attention to detail put into the package. If only everything sold had this much care put in, the world would be a better place.
There are quite a few mods that people have made, such as adding a midi port or a sequencer. I'll try to find some good examples and post them here.
I've added a gallery below displaying SX-150 details and pages from the magazine showing amongst other things, a pull out copy of Yellow Magic Orchestra's (YMO) recording track sheets for their Solid State Survivor album, SX-150 mods, construction instructions, Mr Roland and Mr Korg interviews, the history of analog synthesizers, and 50 essential electronic albums.
Click to enlarge…