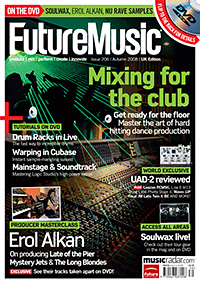 We're very pleased to tell you that there is a 3 page feature and interview with Mat Jarvis talking about the Gas 0095 album in this months Future Music magazine for their Classic Albums series.
Talking to Roy Spencer, Mat goes through the album track by track explaining the stories behind each.
Business is never usual for Gas producer Mat Jarvis. This highly-collectible and experimental electronic album for the now defunct Emit label is proof enough of that. It's the sound of a man in love with sonics, given free reign to invent a new language in sound. There are no rules.
The interview was transcribed a little strangely, so some of the grammar appears to be a little odd. There are also details of equipment used,  working methods, Emit Records, Square Dance Studios, the stories behind the names…
It's just the sound of robots talking to each other. What are they saying? I don't know. I just record it.
In future posts we'll upload some of the material that never made it to the feature, such as quotes from influential artists talking about the album, videos and photographs.
Future Music is also available from myfavouritemagazines.com
Quotes used by kind permission.